California Adult Education History
150 Years of Adult Education History

Through its adult education programs, California offers learners a diverse range of knowledge and skills necessary to participate effectively as citizens, workers, parents, and family and community members. Adult education has been an important part of California's education system since the early years of statehood. The first recorded adult school was sponsored by the San Francisco Board of Education in 1856. Adult education in California grew with the expanding population of the state and was particularly responsive to the needs of immigrant populations. Through the years, California adult educators have provided leadership to the nation in the development of innovative instructional practices and creative educational solutions.
Meeting the Challenge

Meeting the Challenge; a History of Adult Education in California, from the Beginnings to the Twenty-First Century. 2005
See the table of contents of the official history of adult education published by the California Department of Education.
New interviews in the Oral History section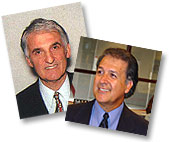 Twenty-nine interviews in the Oral History Section. John Basor and Jaime Mercado.